1-minute installation for WordPress
In this article we'll explain how to install in WordPress via the plugin Header and Footer.
This highly trusted plug-in (at the time of writing 265 5-star ratings and 1, 1-star rating), is the easiest way to install the BreakfastLeads pixel on your website. It also enables you to install different pixels, like the one from Google Analytics.
The plugin is called Header and Footer and it's one that has been created by developer Stefano Lissa. 
How to Use Header and Footer on Your Website
As the Header and Footer plugin is free to use, it can be installed on your site directly from the WordPress plugin directory.
To do so, log into your site's admin area (http://yoursite.com/wp-login.php) and then navigate to Plugins > Add New using the sidebar menu.
From the Add Plugins screen, enter 'Header and Footer' in the search field and then install the first item listed in the results.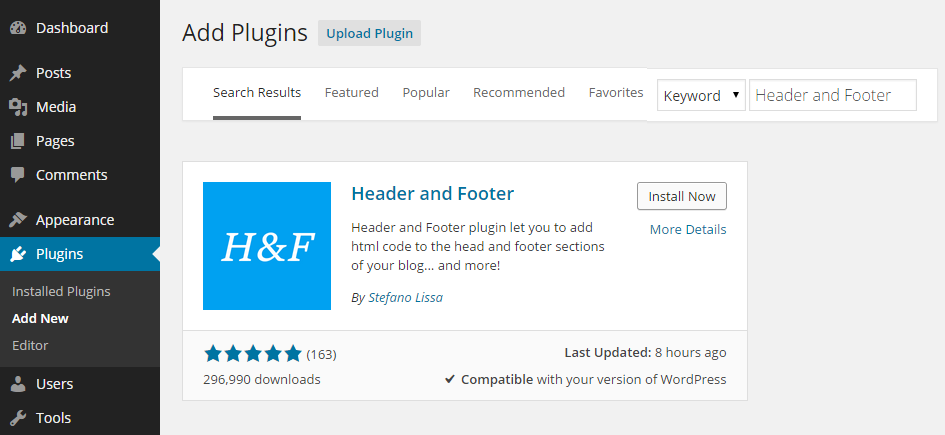 Once the plugin has been installed and activated, it can be accessed from the Header and Footer item under the Settings menu on the admin sidebar.
By selecting the Page Head and Footer tab, you can then write or paste your code snippet in the way that you want. For the BreakfastLeads pixel you'll want to paste the code in the section: 'Code added on HEAD section of every page'.
The code should look like this:
<script src="//app.breakfastleads.com/t.js" id="B2B123****EXAMPLE***" async defer></script>
</head>
Click here to read the Quick Start Guide on how to obtain the BreakfastLead Pixel code